Thematic Guides
Canadian Immigration Since Confederation and the Department of External Affairs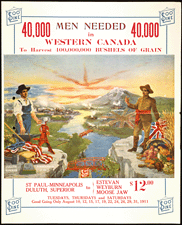 Source

This guide is a brief review of records on immigration to Canada in the Records of the Department of External Affairs (RG 25). These include both the records of the Department proper after its establishment in 1909, and those of predecessor offices in London, England dating back to the 1880s.

These records relate largely to the administration of the immigration process overseas. As such they supplement the records of the federal offices directly responsible for immigration in Canada. The latter are found in the Records of the Department of Agriculture (RG 17) for the period 1867-1893; in the Records of the Department of Immigration (RG 76), and in the Records of Citizenship and Immigration (RG 26) for the period 1865 to the present; and in the Records of the Department of Employment and Immigration (RG 118) for certain administrative and policy records after 1945.

This guide is organized into 3 sections. Part 1 gives a brief explanation of the role of External Affairs in immigration matters; part 2 summarizes the overseas structure of External Affairs as it relates to immigration; and part 3 reviews immigration records in Library and Archives Canada holdings of External Affairs documents (in RG 25).

This guide was created in April 1988 and was revised in September 2000.

Government Records
1. The Department of External Affairs and Canadian Immigration
The Department of External Affairs and its predecessor offices have, since the nineteenth century, played a major role in the provision of immigration services outside Canada. It has also contributed to the formation of domestic immigration policy insofar as it affects Canadian foreign relations generally.
Specifically, Canada's representatives abroad, at various times since the appointment of the first High Commissioner in London in 1880, have been responsible to some extent for administering those parts of the immigration process which begin or end abroad. That is, the issuing of general and specialized entry documents (visas, temporary work permits, student authorizations); the co-ordination of medical and security investigations for prospective entrants; the negotiation and documentation of special applicants for admission to Canada, such as refugees, sponsored groups, persons on exchange programs, VIP visitors, and foreign military personnel; the carrying out of exclusion and deportation proceedings (outwards) and the repatriation or deported Canadians (inwards); liaison with transportation and travel companies serving immigrants coming to Canada; and the dissemination of information and publicity material on Canada to prospective immigrants.
For much of the time since Confederation, these duties were carried out not by what is now the Department of External Affairs (a fact that is sometimes not clearly stated in histories of the foreign service), but by a distinct immigration foreign service, under the direct control of the department responsible for immigration in Canada. At many points in its history, individual immigration offices abroad were indeed lodged in and in some sense depended on a general Canadian mission (as in the High Commission in London, or the Agency in Paris, in the late-nineteenth century, or as in those immigration offices lodged within Canadian embassies opened in the period after the Second World War). However, it can be argued that the immigration foreign service remained essentially independent of External Affairs and its predecessor offices until April 1981, when the service and its posts were formally transferred to External Affairs.
Domestic immigration policy  -  especially in the areas of labour migration, refugee affairs, national/ethnic discrimination, standards of travel documentation, and the related sphere of nationality and citizenship laws  -  affects and is in turn shaped by Canada's general relations with foreign countries. Thus immigration policy is often debated within External Affairs. The Department also acts as a conduit of general background information between foreign powers and immigration policy makers at home on such matters.
2. Structure of the External Affairs Offices Responsible for Immigration
Beginning at least in 1869, the Department of Agriculture (then responsible for immigration) began to station Emigration Agents in various ports and central towns in Great Britain (with a few in strategic European locations) to inspect immigrants embarking for Canada and to publicize Canada as a place of settlement. From 1872 onwards, a supervisory officer was also stationed in London to co-ordinate and inspect the local agencies. Until 1880, these officials reported to the Department of Agriculture in Ottawa, although from 1869 onwards the Prime Minister also maintained a separate semi-official trade and diplomatic representative, Sir John Rose (a Canadian financier). The extent of the respective powers of Rose and the Chief Emigration Agent in London, as regards to immigration, has not yet been fully researched.
In 1880, however, the first official Canadian diplomatic representative abroad  -  the High Commissioner for Canada in Great Britain  -  was appointed to London. His terms of reference (Canada, 43 Vic. 1880, c. 11, sec. 2(2)) included specifically the "charge, supervision and control" of Canadian immigration offices and agencies in the United Kingdom, under instructions from the Minister responsible (the Minister of Agriculture to 1892, of the Interior 1892-1917, of Immigration and Colonization 1917-1936, and of Mines and Resources 1936-1938). This specific area of jurisdiction was not repealed until 1938 (Canada, 2 George VI 1938, c. 30, sec. 3(c)) when it was replaced by a general authority to conduct Canadian business in the United Kingdom as and when instructed.
It is believed that the Chief of Emigration Agencies in London joined the High Commissioner's staff and worked closely with him in and after 1880.
In Europe, Canada stationed a ''Commissaire général" without diplomatic status in Paris in 1882, but a full Canadian legation was not established there until 1928. The extent of this official's immigration duties have not been ascertained. It is known, however, that during the First World War, when the Emigration Agency was closed, an official in the Commissaire's Office continued to perform such immigration duties as were required. The Immigration service proper had opened offices in Europe as early as the 1870s, most of which had histories of irregular openings due to staffing and financial problems, and conflicts with the domestic policies of the host countries. In the early 1920s, nearly a dozen immigration "inspection offices" (so called in part to mask their roles as emigrant recruiting agencies, not a popular activity in many host countries) were opened (or reopened) in Europe. However, these were Immigration service ventures. The few other legations opened by External Affairs before the Second World War in Europe and elsewhere  -  Geneva, 1925; Washington, 1926; Tokyo, 1929; and Belgium and Holland (one legation), 1939  -  apparently performed no immigration duties.
After the Second World War (during which all emigration posts except London were closed), the departments responsible for immigration began to reopen posts rapidly to deal with the large volume of applications for entry to Canada, both from refugees and ordinary settlers. Generally speaking, these posts maintained uneasy relations with the External Affairs missions with which they often coexisted. (For more information on this period, see Freda Hawkins. Canadian Immigration: Public Policy and Public Concern. Montreal: McGill-Queen's University Press, 1972, rev. ed., 1988.
The status of the overseas immigration offices was changed in April 1981, when the Minister of Employment and Immigration (EIC) and the Minister of External Affairs signed a Memorandum of Agreement to transfer responsibility for actual administration and delivery of immigration services abroad from EIC to External Affairs. EIC's Immigration Program Headquarters in Ottawa continues to make policy and draft legislation. External Affairs has absorbed all immigration overseas missions (with at least some of their former staff), and carries out policy made and procedures set by EIC under the Immigration Act and its regulations. External's central file registry in Ottawa also took over from EIC a body of subject files on immigration overseas post administration and policy issues (EIC's former "IFS 5000" block, now External Affairs' Immigration Affairs file block 85).
3. Records of the Department of External Affairs (RG 25) Relating to Immigration
The records in RG 25 are divided into numerous series containing the following records:
Headquarters' Central Registries (Headquarters, Ottawa), subject files and other Headquarters' records;
records of embassies and high commissions; and
records of international conferences and organizations.
Also described are some uncategorized items of interest in the RG 25 accessions not yet fully processed.
These records contain significant documentation on immigration throughout the period 1880-1960s. Note, however, that most of the documents dated before the 1920s relate to emigration from Great Britain.
Topics covered in all periods include immigration and colonization policy generally; documentation (visas, passports and permits); individual cases involving deportation, extradition, determination of citizenship, and repatriation of distressed Canadians; emigration of specific ethnic, national and occupational groups; immigration propaganda; and the representation of provincial immigration interests, especially as regards the labour supply.
Topics specific to the period up to the 1920s reflect the special interests of the Canadian government of the time. Besides the subjects already mentioned, one finds material on colonization and settlement of western Canada, child immigration, Asiatic (Chinese, Japanese, and East Indian) immigration, payment of bonuses (commissions) to immigration recruiters, and negotiations with steamship companies for immigrant passage rates and conditions.
From the 1920s onward, there is an increased emphasis on such matters as the Empire Settlement schemes; promotion of tourism; admission of special academic, student, military and other visitors or exchange groups; the reception and settlement of displaced persons (refugees); foreign prisoners of war transported to Canada for internment (as well as the internment of enemy aliens in Canada); and the national security aspects of immigration.
Series
The following sections summarize relevant records in each series separately.
Series A3(a)(b)(c): Central Registry Subject Files
These are the central subject files of the Department of Foreign Affairs (formely External Affairs) headquarters in Ottawa; as such they are the most important source of information on topics under the Department's jurisdiction after 1909. They include significant subject files on immigration policy and procedure, and in general on all the topics mentioned in this review.
Library and Archives Canada presently holds files from the first three central registry series:
Series A3(a) (active 1909-1939). Many individual files on immigration cases, policy and procedures.
Series A3(b) (active 1940-1963). Many individual files on immigration cases, policy and procedures. Note also the files on Newfoundland immigration matters (vols. 2394 and 2409) and on the wartime activities of specific ethnic groups and internment of enemy aliens within Canada (throughout).
Series A3(c) (active 1963-1995). Individual files on immigration cases, policy and procedures.
File lists exist for all the records in series A3. There are also useful subject indexes. Researchers should consult the archivist responsible for this record group for further assistance.
Series B1: Canada House (Canadian High Commission, London), 1874-1955
Most of the relevant material in this series predates the Second World War.
B1(a) contains the correspondence of the Canadian High Commission with Canadian and British government departments, 1880-1903. This includes numerous subject files on immigration among correspondence between Canada House and the Canadian Department of Agriculture, 1880-1893 (vols. 1-16), and a lesser amount among correspondence with its successor, the Department of the Interior, 1893-1903 (primarily vols. 95-100). There are some files on British and Irish emigration and on dealings with steamship lines among correspondence with the British Colonial Office, mainly before 1900 (vols. 22 and 2365).
Series B1(b) continues B1(a) for the years 1904-1945. The Immigration and Interior ("I") files and related records in vols. 197-204 contain further important subject files on general and child immigration, colonization, etc., dated 1904-1927.
Series B1(c) (local correspondence, 1904-1925) consists mainly of routine requests for information, among which are a few inquiries concerning steamship transportation for immigrants and returning Britons, settlement prospects in Canada, and certifications of Canadian citizenship.
Series B1(d) (subject files, 1933-1945) includes a few files on pre-war and wartime immigration, including the admission of Hutterites, Polish refugees, and Jehovah's Witnesses (vols. 387, 388 and 391); on a criminal justice bill and immigration, 1939 (vol. 387); and a few case files on extraditions, naturalizations and passports (throughout).
Series B1(e) and B1(f) (both containing miscellaneous subject files) include several substantial general files on all aspects of British emigration, 1885-1925 (vols. 406, 407, 498 and 499); on Atlantic steamship services, 1882-1913 (vols. 571-578); on liaison with the British Overseas Settlement Board, 1918-1930 (vols. 549-551); and on individual cases involving distressed Canadians in Britain, 1919-1920 (vols. 610-616). There are also administrative files on the organization and duties of the High Commissioner's Office, including his immigration duties, 1896-1898 (vol. 602) and further case files on distressed Canadians in Britain, 1908-1923 (vols. 604-618).
Series B1(k) consists of "secret and confidential files" mainly for the wartime period (1939-1951). Items of interest include the admission to Canada of Ukrainian teachers and clergy and Czech and Polish nationals (vols. 2090, 2095 and 2097) and of German scientists and technicians (vol. 2086, etc.); the treatment of the Japanese in Canada (vol. 2098); refugee movements and the International Refugee Organization (IRO) (vols. 2105, 2112 and 2113, etc.); post-war North Atlantic passenger shipping (vol. 2102); revision of immigration regulations (vol. 2119); and some individual case files involving visas, VIP visits, repatriations and extraditions (throughout).
Series C: International Conferences, Committees, Commissions and Meetings
Throughout this series, the proceedings and working papers kept by External Affairs on individual meetings, hearings and sessions (1909-1950) may contain relevant references, especially to the international aspects of immigration policy, migration of labour, movement of refugees, and standards of travel/entry documentation. Vols. 1002 and 1003 contains a collection of prints, blue books, and Royal Commission material on Japanese and "Asiatic" immigration to Canada, 1884-1925.
The records of the early Canadian delegations to the United Nations (1945-1949) contain significant files on the International Refugee Organization, refugee and labour movements generally, repatriation, and the Japanese immigration question (e.g., vols. 1031, 1035, 1051, 1065, 1067 and 2615).
Other Canadian Missions Overseas
Few records of overseas posts have been deposited here as yet.
Series A5(b) contains records of the Personnel Division of External Affairs on the organization of posts abroad (mainly 1939 to 1963) that should contain incidental information on the operation of immigration sections at specified posts; there is also one file on the consular service, 1946-1955, in vol. 678.
Series B2, the records of the Washington Embassy, contains some files on wartime consular matters and individual extradition cases in the 1940s and 1950s (vols. 2124, 2137 and 2140); on Palestinian refugees, 1949-1950 (vols. 2126 and 2152); the Japanese in Canada, 1950 (vol. 2163); the movement of U.S. labourers to Canada, 1945-1950 (vols. 2148 and 2149); and dual nationality, 1946 (vol. 2151). Consult the current finding aids for recent additions to this series.
Series E7(a) includes correspondence and United Kingdom "prints" (texts of government correspondence on matters of special concern, printed for internal reference) on Asiatic and oriental immigration, 1884-1908 (vol. 704).
Ottawa Headquarters Records Other Than Central Registry Files
Series A2 includes the correspondence of the Under-Secretaries of State for External Affairs, 1908-1952 (mainly in the 1920s to 1940s). These records are available on microfilm. Among them are files on Canadian immigration policy, 1924-1939 (vol. 721); passport regulations, 1924-1940 (vol. 769); nationality questions, 1924-1945 (vols. 721 and 807); Chinese, Japanese, East Indian and other oriental immigration to Canada, 1897-1941 (vols. 722 and 727-729); immigration from Italy, 1924-1927 (vol. 805); border crossing to Canada from the U.S.A., 1926-1934 (vol. 740); British immigration  -  harvesters and unemployment insurance for recent immigrants, 1928-1929 (vol. 721); and wartime evacuation of British children to Canada, 1938-1940 (vol. 755).
Series A5(a) contains a variety of records on departmental organization (1909-1950) that may be of peripheral relevance; there is also one file on visas and passports, 1936-1940 (vol. 838).
Series A4, the Departmental Briefing Books on all aspects of External Affairs' activities (1865-1978) appear to include some specific reference material on the administration and organization of External's overseas posts as it affects immigration; on conferences involving refugee, labour migration and nationality issues; and activities of the U.N. High Commission for Refugees (UNHCR). See vols. 3129-3174.
Series A5(c), the records of Consular Affairs (1935-1963), consist so far of manuals of formal instructions for the performance of consular duties, which include the issuing of immigration visas, determination of citizenship questions, and similar matters. See vol. 3039.
Series A5(d) (Library Material) includes, among the "news clippings," one file of dispatches between the Colonial Secretary, the Governor General, and various Canadian departments on "Asiatic" immigration, 1908-1909 (vol. 2575).
Thematic Finding Aids
A number of thematic finding aids provide more specific references to immigration related records in RG 25. These include:
the Ethnic Index, an alphabetical guide to major files and other documents on specific ethnic, national and minority religious groups in government archives holdings, including RG 25 (extracts for specific groups are available on request);
"Records Relating to Alleged Nazi War Criminals in Canada and Europe: A Preliminary Source Search," Library and Archives Canada, April 1985, 95 pp. (this lists some files relating to the arrival in Canada of alleged war criminals, and allied topics); and
"Sources for the Study of the Treatment of Japanese Canadians, 1941-1950," Library and Archives Canada, rev. ed., November 1987.